Otie's Botanicals Black Bali (Bring on Da Funk)
My 250 gram package arrived today, USPS will deliver on Sunday for this kind of mail when they are backed up, at least in my pretty densely populated area.
I took a few deep breaths of this with my face providing a seal for the bag. I had to be careful not to vacuum the powder into my nose. 😉 This grind is reasonably fine but the Black Bali is moist and thus dense so it's not as much of a risk for breathing in as other teas.
Wow, is it fermented. At first I was thinking "Wine", which the aroma does suggest, but I finally landed on "exotic mushroom" as the best descriptor to offer right now. I burned a small, 500 mg., amount plus a dash of stem and vein.
I forgot to taste the tea, which is something I think is important when trying a new strain, but I guess breathing it in so strongly will compensate for that. I'll be taking three or four more servings of it today. The next one like this one, but remembering to taste it. The third mixed with Otie's Gold Bali as that combination got highly recommended on Otie's Facebook page. And the fourth by itself again, before bed. That's the plan anyway.
No picture I can take is likely to do justice to its look. There's is something unique that went on with the preparation of this. Maybe it's a blend, or maybe some exotic herbals were used in the drying process.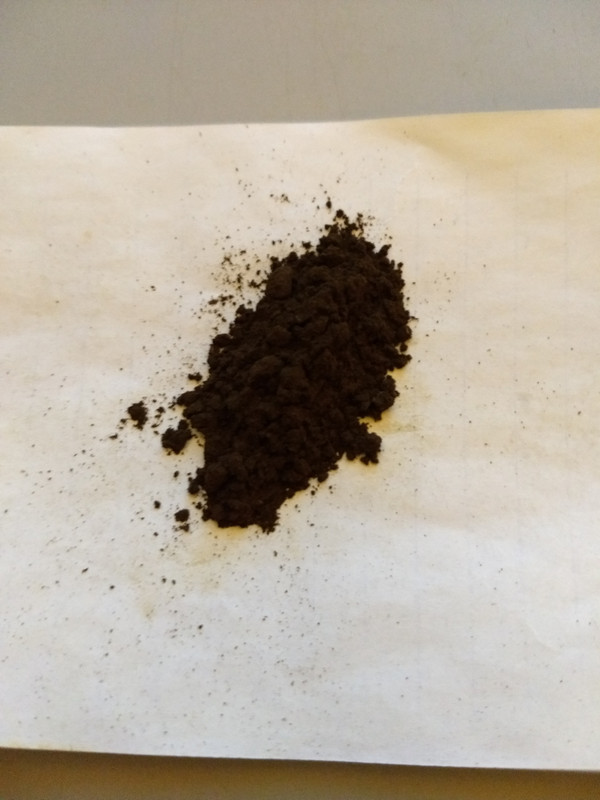 Lol, I knew I was going to sound like the guy from Cosmic Debris with this.
With the oil of Aphrodite
An' the dust of the Grand Wazoo
https://www.youtube.com/watch?v=wtx4ZJ1cwI0
OK, I had to look at it again so I wet my finger and took a taste of what I used to take a picture. Again, this is complex, with notes of ash, or blackened toast. I'm almost able to detect an herbal presence, but if it's there it's been converted as part of the fermentation. If you had to pick out a strain that had a taste that said "Black Kratom", this would be it.
I took it about 45 minutes ago as my first serving of the day, and so far it's helping with mood and energy, which wasn't what I expected, but which is to be expected with such a small serving. My neck and back are feeling a bit looser, and more pain free. So this is very good so far.
But as this strain is geared for relaxation and pain relief it's probably going to require more than a minimal effective dose to come into its own. Facebook postings suggest this as well.
But I'll give this a shot and then at 6:30 PM EST take the second serving.
And now it's kicking in with the body effects, the much talked about "warm blanket effect". I'm getting just a suggestion of that, but from a serving at just 500 mg. this is a good sign.
I really want to a full gram, but I sort of committed to testing new product this way, a while back. Science can be a cruel mistress! lol 🙂
So far I'm very happy with this addition to my stash. I'm feeling it more in my face, like I'm getting a glow, as I finish typing this.
This might be a very custom, and proprietary, strain that is dried, processed, and fermented, to special order. Especially if they're kuning it with some herbal additions.
Instead of simply utilizing the natural fermentation process to harness yellow kratom, these growers soak the kratom leaves in a special liquid. While the exact recipe is a secret, they make a tea with Tongkat Ali and cat's claw.
https://kratomguides.com/gold-bali-kratom-vs-gold-maeng-da/
I'm not suggesting those were used, just that something extra could be used to make this.
Topic starter
Posted : 08/12/2019 4:47 pm